Zář 25, 2017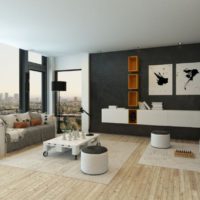 Musela to byť šťastná náhoda, lebo inak by som začala veriť v osud, a to ma vždy úspešne obchádzalo. Sedela som vtedy v malej londýnskej kaviarni, na stole Capablancova obchytaná kniha o základoch šachu a horúci čaj s pár sušienkami. Prosím, či pršalo? Samozrejme, že opäť lialo, ale mňa to z miery nikdy nevyvádzalo, keďže som sa narodila v kopcoch, a tam bol dážď pomerne častou atomsférickou zábavou.
Odrazu si, za vedľajší stôl, sadol taký vytiahnutý, tenký chalanisko. Mokrý, strapatý, s úzkymi okuliarmi, čo sa mu na zmoknutom nose stále neustále šmýkali. Prosím, zase vy? Ale áno, odišli sme z kaviarne spolu, aj keď to potom všetko dosť dlho trvalo. Nie, nemýlite sa, šach nebol tým, čo nás dalo dokopy.
Je pravdou, že šach sme občas hrali celkom radi, no skôr ako dobrý spôsob relaxu. A tak ani jeden z nás na ramenách nenosil zlaté výložky obávaného majstra šachovnice. Prezradím, bolo výtvarné umenie, najmä to moderné, čo nás oboch napokon spojilo.
A tak sa niet čomu veľmi čudovať, keď sme mali takmer každé rande priamo v Tate Gallery alebo aspoň v jej blízkom okolí. Raz sme sa zrazili na Millenium Bridge, čo je vlastne po ceste, inokedy pred katedrálou sv. Pavla, či hneď vedľa divadla Globe. Proste Londýn a jeho magicky temná Temža si nás svojimi miestami získal.
Iste, všetko sa potom skončilo…
Iste, všetko sa potom skončilo očakávane a vlastne logicky… Takže sme sa vzali v Londýne a v prenajatom byte, trochu mimo centra, rozbehli po ukončení školy náš profesionálny život. Mne sa začalo dariť v cestovnom ruchu a manžel stúpal po rebríčku v známej IT firme. Samozrejme, že moderné umenie ostávalo pre nás oboch stále na poprednom mieste všedných aj sviatočných záujmov. Aj keď nás prvé dieťa na pekných pár mesiacov zaviedlo úplne iným, nádherným smerom.
Len čo nám to po čase náš prvý potomok milostivo dovolil, opäť sme s radosťou zablúdili do zákutí Tate, dlho vysedávali pred plátnami Rothka alebo Matissa, mlčali, šepkali. Zámerne uvádzam práve túto dvojicu umelcov-maliarov, lebo mali na našom výtvarnom nebi čestné a trvalé miesto výtvarných vyvolencov.
Geniálny americký maliar Mark Rothko bol pôvodom lotyšský Žid, vlastným menom Marcus Rothkowits a jeho plátna, najmä tie neskoršie – abstraktne expresionistické – nás fascinujú už dlhé roky. Predstavte si dve, tri, či viac farebných plôch, ktoré ležia na plátne vedľa seba, prekrývajú sa, hovoria a mlčia, majú silu a energiu osloviť len farbou a tvarom, súznením, protikladmi, náladou.

Viem, dosť ťažko sa dá o niečom takom…
Viem, dosť ťažko sa dá o niečom takom, ako sú farby hovoriť. Skrátka to treba vidieť na vlastné oči. Tie jedinečné, originálne diela majú – aspoň pre nás dvoch – hodnotu, ktorú ťažko vyrovná aj suma za jeho najdrahší obraz. V roku 2012 bolo napríklad jedno plátno pána Rothka predané počas aukcie za astronomickú čiastku – 87 miliónov dolárov.
Bez smútku v hlase môžem zároveň dodať, že sa nám určite nikdy nepodarí vlastniť obraz tohoto majstra, ale kópií nám v londýnskom byte viselo rovno niekoľko. Nakoniec, presne to isté platilo a platí aj o našej druhej výtvarnej stálici, francúzskom fauvistovi a farebnému mágovi, Henri Matissovi. Maliar bol síce o celú generáciu starší ako Rothko, ale jeho odvážne narábanie s farbou nemá vo svete výtvarného umenia 20. storočia rovnocennú konkurenciu.
Možno o ňom trochu viac napovie krátky citát, ktorý sa týka umeleckého presvedčenia, a najmä farieb. Teda pán Matisse kdesi povedal: "Mojím veľkým snom je umenie rovnováhy, čistoty a pokoja… Som hlboko presvedčený, že farba zobrazovaného objektu na obraze nemusí byť v zhode s jeho skutočným sfarbením.."
Matiss ale nebol len nezameniteľným, Bohom nadaným maliarom, ale venoval sa aj grafike a ilustráciám, sochárstvu alebo scénografii. Napríklad v tridsiatych rokoch 20. storočia kongeniálne ilustroval ďalší umelecký šperk – Joyceovho Ulyssesa. Tu sa musím pochváliť a potešiť zároveň, keďže faksimile tejto literárnej vzácnosti máme v našej domácej knižnici. Jeho jedinečné ilustrácie ale taktiež sprevádzali básnické diela pánov akými boli Baudelaire, Malarmé alebo Ronsard.
Možno to bude prekvapením…
Možno to bude prekvapením, ale Matisse má na konte i pôvabné architektonické dielo, ktoré sme, pochopiteľne, museli tiež vidieť. Iba 20 kilometrov od Nice, na juhu Francúzska, leží mestečko Vence. Okolo roku 1947 začal Matisse pracovať na tzv. ružencovej kaplnke, ktorú nájdete práve na tomto malebnom mieste.
Maliar vytvoril nielen základný architektonický koncept kaplnky, ale aj vnútornú výzdobu. Počas štyroch rokov práce Matisse stvoril obrazy Panny Márie sv. Dominika a Krížovej cest. Kaplnka dostala z rúk majstra tiež nádherný oltár s krucifixom a očarujúce vitráže v oknách, ktorých pôvabné rastlinné motívy symbolizujú Strom života. Verte mi, stačí raz vidieť a nikdy na to miesto nezabudnete.
Pardon, zdá sa mi, že som sa nechala príliš strhnúť zamilovanou témou umenia a podstatu týchto riadkov som akosi zanedbala. Takže naspäť do Londýna. S narodením druhého potomka sa dobré, ba skvelé správy vôbec nekončili. Manžel, ktorý sa vo svojej firme veľmi dobre zapísal, dostal výnimočnú ponuku, aká na stole nepristane často. Mal sa stať riaditeľom novej pobočky jeho IT spoločnosti so sídlom v Bratislave. Hmm, znie to asi neuveriteľne, no bola to pravda, ktorá nám poriadne zamotala hlavy.
Najprv sme sa…
Najprv sme sa – slušne povedané – vytočili, lebo žiadnu cestu domov, tým skôr na dlhý čas, či nebodaj natrvalo, sme v pláne nemali. Chceli sme ostať v Londýne, kde sme si už zvykli a videli oveľa väčšiu perspektívu. Napokon sa ale podmienky odchodu zmenili viac-menej v náš prospech. Bratislavu sme tak mohli začať považovať za druhé miesto pre život s tým, že po dvoch-troch rokoch sa zrejme vrátime a byt na Slovensku si ponecháme ako súkromné, prípadne pracovné zázemie.
Vyhliadli sme si celkom príjemný, svetlom naplnený byt neďaleko brehov Dunaja, takže rieka nám aspoň v prvých, dosť náročných týždňoch – aj keď vzdialene – pripomínala Temžu. Väčším problémom však bola postupná premena bytu tak, aby nás tešil v každom okamihu. Kuchyňu sme – aspoň trošku – upravili vo vlastnej réžii, keďže sa nám videla v na tých pár rokov poriadku, no obývacia izba mala oveľa viac mínusov ako plusov. Robili sme s tým, čo sa dalo, ale stále to nebolo ono. Bolo treba osloviť profíka. Pravda, dlhší čas sme doma nežili, ergo chýbali nám domáce kontakty, no vzdať sme to v žiadnom prípade nemohli.
Našťastie sa manžel vo firme dozvedel o dizajnérskej spoločnosti ORIGINE INTERIER DESIGN, návrh interiéru bytov Bratislava, pani Pavlíny Lipkovej. Podľa referencií a ohlasov išlo o overený a výborný tip, ktorý má naozaj skvelé renomé. Web stránka a ďalšie informácie nám tieto chýry len potvrdili. Obratom sme sa teda s pani Lipkovou spojili a verili, že obývačka s jej pomocou získa to, čo od takéhoto priestoru po práve očakávame.

Dohovorili sme si teda krátku…
Dohovorili sme si teda krátku, informatívnu schôdzku priamo u nás doma. Prišla na čas a prvé, čo sme spolu absolvovali, bola prehliadka bytu, predovšetkým obývačky. Veľmi rýchlo nám bolo jasné, že ide o skúsenú odborníčku. Rozhovor, ktorý sme spolu viedli totiž od úvodu smeroval k zásadným informáciám. Hovorili sme o tom, čo a ako chceme zmeniť, ako si premenenú obývačku predstavujeme a koľko chceme do vylepšení interiéru investovať. Návrh interiéru bytov Bratislava.
Pani Lipková si počas nášho rozhovoru robila priebežné poznámky a následne si celý priestor dôkladne premerala. Chceli sme, aby naša nová obývačka bola vzdušná, formovo jednoduchá, trochu minimalistická, a najmä – farebne dokonale zladená. Navrhli sme ako pracovné farby sivú, bielu a doplnkovú prírodnú, ale všetky ostatné detaily ponechali na tvorivých ramenách interiérovej dizajnérky, pani Lipkovej.
Už prvé nápady a riešenia, ktoré sme dostali na posúdenie, mali v sebe presne to, čo sme očakávali. Jednoduchosť, formový minimalizmus a výraznú schopnosť pracovať so zaujímavým detailom. Základným plusom bol tiež fakt, že farebnosť bola ponechaná v smere, ktorý sme si zvolili – teda biela, sivá a prírodný odtieň hnedej využitý na podlahe. Veľkú, a myslím, že podstatnú úlohu v premenenom priestore zohráva tiež dispozícia našej obývacej izby. Takmer jednu celú stenu zaberá okno s fantastickým výhľadom na mesto, pričom sa dá priamo z obývačky vyjsť na terasu.
Tie dennodenné premeny…
Tie dennodenné premeny svetla a mesta po nami, sú jedinečným obrazom, ktorý človeka nikdy neomrzí, tým skôr, že vďaka tvorivo upravenej obývačke sú pocity zo sledovania týchto neustálych minizázrakov ešte intenzívnejšie a pôsobivejšie. Priznám sa, že zbožňujem moju rannú kávu, ktorú pijem s očami ponorenými do panorámy mesta. Dokonca som sa nedávno pristihla pri naivnej a insitnej myšlienke, že takýto výhľad by som v Londýne na sto percent nenašla. Sorry, to bol malý pokus o vtip.
Pani Lipková sa vyhrala aj dvojicou abstraktných, čiernobielych obrazov, ktoré zavesila na sivú stenu smerujúcu ku dverám obývačky. Obrazy nielenže ladia s celkovou atmosférou miestnosti, ale ju nezameniteľným spôsobom definujú a povyšujú. Hneď vedľa nich sú na stene osadené vizuálne vtipné, farebne kontrastné poličky, ktoré priestor celej izby a stenu zvlášť, silne rytmizujú a prepožičiavajú mu výrazný charakter.
Na tej istej stene pani dizajnérka umiestnila nenápadný, jednoduchý a vkusný úložný priestor v podobe hladkých bielych skriniek, ktoré boli odvážne osadené na stene, takže vytvárajú dojem ľahkosti, hravosti a nenútenosti. Pre mňa osobne, je tento prvok nesmierne nápaditý a od prvého okamihu ma viedol k tichému úsmevu radosti.
Vravela som, že denného svetla má miestnosť dostatok. Pokiaľ išlo o lampy, lustre a rôzne osvetľovacie telesá, nikdy sme nevyznávali koncept veľkého centrálneho lustra. Pani Lipková naše predstavy plne akceptovala. Navrhla nám, aby sme umiestnili na strope bodové svetlá v akomsi kruhu. Všetky sa dajú pohodlne nakláňať rôznymi smermi, nijako neprekážajú a poskytujú dostatok svetla počas noci alebo večera. Ako dekoratívny prvok, ale aj praktický typ osvetlenia, napr. pre čítanie, je vedľa sedačky postavená čierna, elegantná stojaca lampa ktorá si svojou nenútenou krásou vydobyje pozornosť, aj keď práve nesvieti. Návrh interiéru bytov Bratislava.
Ako ľudia, ktorí majú blízko…
Ako ľudia, ktorí majú blízko k modernému výtvarnému umeniu a neotrelým nápadom sme sa rozhodli aj pre nezvyčajný konferečný stolík. Tvorí ho celkom obyčajná, drevená europaleta, samozrejme, že náležite upravená a finálne natretá snehobielou farbou, takže v priestore miestnosti je neprehliadnuteľná.
Kvôli flexibilite tohoto nápadu a väčšej mobilite sme na netradičný stolík-paletu, nechali namiesto nožičiek namotovať štvoricu gumených koliesok s brzdou. Vyslovene praktické a krásne účelné riešenie. Aby sme však občas hostí, aj samých seba prekvapili, nechali sme si vyrobiť ešte jeden podobný stolík, ktorý však dostal prírodný odtieň hnedej, takže dokonale ladí s položenou podlahou, poťažmo s celou izbou.
Keďže jednoduchosť má pre nás v interiéri zásadný význam, využili sme nápad pani dizajnérky a rustikálne prútené košíky plus podobne vytvorené debničky, používame ako odkladacie boxy na noviny a časopisy. Dokonca sme si nechali z prútia urobiť aj minibar na fľaše dobrého vína, pochopiteľne, všetko v prírodne svetlom odtieni.
Ani vám nebudem hovoriť, koľko chvály sme už za tento skvelý nápad od našich hostí zožali. Väčšina hostí si však nájde miesto na pohodlnej sedačke opretej o veľké okno obývačky. Jej mäkkú plochu pokrýva moderný sivý prehoz, ktorý tak výborne ladí so sivou stenou, sedacími časťami taburetiek a vankúšmi, voľne pohodenými na samotnej sedačke.
Na podlahe bolo vytvorené i niečo netradičné, akýsi relaxačný kútik s kobercom z prírodného materiálu. Na koberci stoja taburetky v sivo-bielej farebnej kombinácii, ktoré sú počas návštev pomerne často predmetom tichých vojen, keďže sa nich bezchybne a pohodlne sedí. Ako vidíte, dá sa tu pohodlne ležať, hľadieť oknami zasnene do neba alebo baviť sa s deťmi. Dokonca sa tu odohralo už niekoľko príjemných šachových partií, ktoré mi vždy pripomenú tú malú londýnsku kaviareň a upršaný deň, plný šťastných náhod. Návrh interiéru bytov Bratislava.
One Response to "Nadčasové riešenie obývačky v Bratislave s pomocou dizajnéra"